Memberships
InternetNZ
InternetNZ's vision is for a better world through a better Internet. InternetNZ promotes the Internet's benefits and protects its potential. InternetNZ focuses on advancing an open and uncaptureable Internet for New Zealand.
InternetNZ provide a voice for the Internet in New Zealand and work on behalf of all Internet users across the country.
Find out more about InternetNZ or Join
Electronic Frontier Foundation
The Electronic Frontier Foundation is the leading nonprofit organization defending civil liberties in the digital world. Founded in 1990, the EFF champions user privacy, free expression, and innovation through impact litigation, policy analysis, grassroots activism, and technology development. The EFF work to ensure that rights and freedoms are enhanced and protected as our use of technology grows.
Find out more about the EFF or Join
Free Software Foundation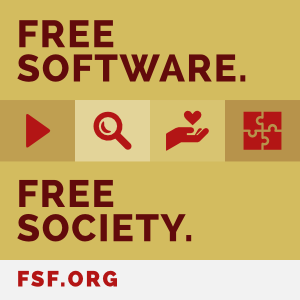 As our society grows more dependent on computers, the software we run is of critical importance to securing the future of a free society. Free software is about having control over the technology we use in our homes, schools and businesses, where computers work for our individual and communal benefit, not for proprietary software companies or governments who might seek to restrict and monitor us. The Free Software Foundation exclusively uses free software to perform its work.
The Free Software Foundation is working to secure freedom for computer users by promoting the development and use of free (as in freedom) software and documentation—particularly the GNU operating system—and by campaigning against threats to computer user freedom like Digital Restrictions Management (DRM) and software patents.
Find out more about the FSF or Join
New Zealand Open Source Society
The New Zealand Open Source Society is an incorporated society set up to educate, advocate and advance the use of Free and Open Source Software (FOSS) in New Zealand.
The NZOSS represents Free and Open Source Software users, creators and contributors in New Zealand by promoting software, representing the interests of the community to Government and the education sector. It also supports community user groups.
Find out more about the NZOSS or Join
Software Freedom Conservancy
The Software Freedom Conservancy is deeply committed to supporting, promoting, developing, and defending free and open source software.
The SFC provides a home and infrastructure for FLOSS projects. This allows FLOSS developers to focus on what they do best — writing and improving FLOSS for the general public — while Conservancy takes care of the projects' needs that do not relate directly to software development and documentation.